Continuing our series of special Guest bloggers, we're thrilled to feature Angela Estes today! Angela is a self-described "Disney Fanatic with a bit of gypsy wanderlust." She's also a wife and mom, and is NDM #346!
Disney's Hollywood Studios has always been about showcasing that Hollywood magic. Lights, Motors, Action! Extreme Stunt Show is a must-see for our family, which includes two boys, but even if you are a house full of girls or have no children at all, Lights, Motors, Action will entertain you and excite the daredevil within.
Walking into the outdoor area which houses this powerhouse show, you will be instantly taken aback at the sheer size of it. Seating accommodates 5,000 spectators, and even during the busiest of seasons, I've not seen it at capacity. This is a Fastpass enabled attraction, but I would not recommend using it. We have never had a problem getting seating, and it would be a shame to waste the precious Fastpass when it's not needed. Every seat is a good seat, and the way it's positioned, you feel like you are watching an enormous outdoor theater production, only this one includes pyrotechnics, jet skis and even a driver who catches on fire. In June 2011 they added a cameo by Cars favorite, Lightning McQueen. Now there really is something for all ages.
The show lasts about 35 minutes and there is never a dull moment. Real stunt drivers make this highly choreographed show feel like it's straight out of the movies. The backdrop looks like a village in France and is a shout-out to the roots of the show, which originated at Disneyland Resort Paris. The cars and some explosions can be quite loud, so if you have a child or family member who is sensitive to sound, you might want to keep that in mind. Check your times guide upon entering the Park for a schedule of the showtimes on that day. Enjoy the magic!
Thanks for being our Guest, Angela!
Today's Takeaway:
In May, we took a look at the original Disneyland Paris version, Moteurs…Action! Both shows feature highly-modified Opel brand cars. Though they appear to be stock, the cars have been modified under the hood to include a 1,300 cc, 150-horsepower motorcycle engine that has a unique gear system of 4 forward gears and 4 reverse gears. The vehicles weigh less than half as much as a standard production car and protect drivers with reinforced, rally-car roll cages.
Today, build your own car – model car, that is! When we featured the French version of this stunt show, the Takeaway involved building an electric car. We're toning it down a bit this time.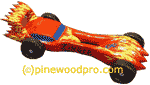 Build a Pinewood Derby racer! Visit PinewoodPro to find an assortment of car design ideas, tips on how to make your car faster, and all sorts of creative suggestions and how-to's to make your car unique. Build more than one and race them down the slide in your backyard or at a local park. Or, if you don't mind the wear and tear, host your own stunt show. Have a smash-up derby and crash them into each other!
SCHOOL SUBJECT: Art
SKILL LEVEL: Elementary to Middle Grades (You can increase skill level by studying the variants such as aerodynamics, weight and proportion.)
Think outside the textbook with this veteran homeschooling author & editor, and learn while you play!