Magical Mouse Schoolhouse is currently hosting a series of Guest bloggers. I do hope you're enjoying these posts and are taking time to explore our friends' websites, maybe even give them a nice shout-out!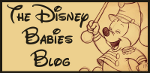 This week we are honored to have Jenn from the Disney Babies Blog. Jenn became a Disney fanatic in her young adult years, despite having visited Walt Disney World several times as a child. Now as a wife and mom, she likes to slow down and enjoy the magic with her husband and son. Jenn writes for both the Magical Blogorail (Blue) and Chip & Company. 
Photos courtesy Capturing Magical Memories
One of the original lands of the Magic Kingdom is Liberty Square. Home to attractions like the Haunted Mansion, the Liberty Belle riverboat, and the Hall of Presidents, Liberty Square is based on a town from around the time of the American Revolution.
While you're in Liberty Square, you may notice that it's hard to find a bathroom. Why? There was no plumbing during the days of the American Revolution! The Imagineers worked very hard to keep Liberty Square as true to the time period as possible, so the restrooms may be a challenge to find!
Take a look around and notice an American flag as well as 13 other flags – these represent the 13 Original Colonies, which are also represented architecturally (you'll find architectural representation from New England, Colonial Williamsburg, New Dutch and the Hudson River Valley!). Another piece of history – in 1976, the bicentennial, fifty replicas of the Liberty Bell were made and one given to each state. After Pennsylvania decided they didn't need a replica, seeing as they had the original, they gave it to Walt Disney World (when asked) where it is prominently on display, and leaves Florida as the only state to have two Liberty Bells!
My favorite part of Liberty Square is time travelling. If you look above the doors on many of the buildings, you'll see a 2 digit number (19, 26, etc…). Add an "18" in front, and you'll find out which year these buildings represent! One final piece of trivia – if you notice in one of the windows 2 lit lanterns, think back to Paul Revere – that's his way of knowing how the Redcoats were coming: "One if by land, two if by sea!"
Today's Takeaway:
Can you name this poem? It begins, "Listen, my children, and you shall hear / Of the midnight ride of Paul Revere…" It is "Paul Revere's Ride," by Henry Wadsworth Longfellow. Longfellow, famed for his The Song of Hiawatha and The Courtship of Miles Standish, is considered the first professional poet in America. "Paul Revere's Ride," written in 1860 nearly 100 years after the event, pays tribute to the man who warned his compatriots that the British "red-coats" had come ashore and begun battle with the colonists. It established a form of American mythos, elevating Paul Revere to heroic legend.
Visit your local library and check out a copy of "Paul Revere's Ride," or access it online here. Read it aloud with your children. Also check out historical books on the subject, because Longfellow's poem is not completely historically accurate.
Assign your student to research other Revolutionary War figures. Have them select one person to write about and compose their own poem to elevate him or her to legendary status, as "Paul Revere's Ride" has done for this American patriot.
SCHOOL SUBJECT: American History / Creative Writing
SKILL LEVEL: Middle Grades / High School
Think outside the textbook with this veteran homeschooling author & editor, and learn while you play!